The CBD trend does not appear to be waning any time soon, even though its existence continues to sit in murky legal waters.
Cannabidiol (CBD) and hemp are significantly growing trends in the pet space; consumers spent US$426 million on pet CBD in 2020 and the segment is expected to reach US$629 million in sales by the end of 2021, according to a Brightfield Group report, "Pet CBD Pupdate: Consumer & Channel Opportunities in 2021." The most common uses for these ingredients are functional, with calming, stress/anxiety and hip/joint relief at the top of the list.
The ingredients are usually found in soft chews or bites, though oil is another popular vehicle (a direct carryover from the human side, where oil is the top method of delivery for CBD).
CBD and hemp pet products are found just about everywhere: pet specialty stores, grocery stores in the pet products aisle, Chewy.com — these days it's just as common to find them as any other functional treat. So why does it bear repeated discussion? Well, because legally, the whole segment is something of a mess.
PET CBD PRODUCT BUYERS BY GENERATION, 2021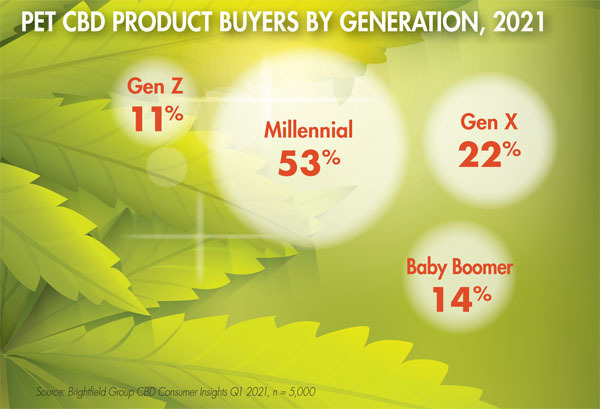 The continued gray area of CBD and hemp in pet products
The U.S. Food and Drug Administration (FDA) has yet to legalize either ingredient in animal food or feed. In fact, in the agency's extensive " FDA Regulation of Cannabis and Cannabis- Derived Products, Including Cannabidiol (CBD) " section, the blunt answer to the question, "Is it legal, in interstate commerce, to sell a food (including animal food or feed) to which THC or CBD has been added?" is "No."
"Under section 301(ll) of the FD&C Act [21 U.S.C. § 331(ll)], it is prohibited to introduce or deliver for introduction into interstate commerce any food (including any animal food or feed) to which has been added a substance which is an active ingredient in a drug product that has been approved under section 505 of the FD&C Act [21 U.S.C. § 355 ] … FDA has therefore concluded that it is a prohibited act to introduce or deliver for introduction into interstate commerce any food (including any animal food or feed) to which THC or CBD has been added."
A later question asks, "Can hemp be added to animal food?"
"All ingredients in animal food must be the subject of an approved food additive petition or generally recognized as safe (GRAS) for their intended use in the intended species. If an animal food contains an ingredient that is not the subject of an approved food additive petition or GRAS for its intended use in the intended species, that animal food would be adulterated under section 402(a)(2)(C)(i) of the FD&C Act [21 U.S.C. § 342(a)(2)(C)(i)]. In coordination with state feed control officials, CVM also recognizes ingredients listed in the Official Publication (OP) of the Association of American Feed Control Officials (AAFCO) as being acceptable for use in animal food. At this time, there are no approved food additive petitions or ingredient definitions listed in the AAFCO OP for any substances derived from hemp, and we are unaware of any GRAS conclusions regarding the use of any substances derived from hemp in animal food."
But while the FDA has sent out cease and desist letters to some companies in noncompliance, they clearly have not been able to keep up, because the CBD market is booming in pet and it's difficult to imagine the industry walking back an entire growth segment. (So far in 2021, the FDA has sent out four warning letters to "firms that market unapproved new drugs that allegedly contain CBD," and while these aren't pet-specific products, it's safe to say that more than four new CBD-related drug products have hit the market this year so far.)
DOG AND CAT CBD PRODUCT USAGE, 2021 VS. 2020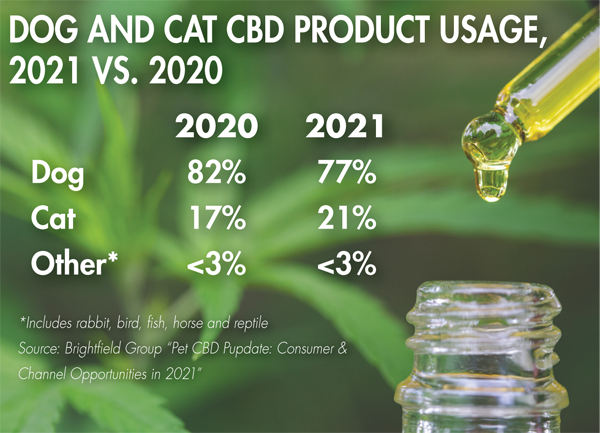 CBD opportunities expanding as accessibility increases
CBD was big in the human space in 2020 for obvious reasons: Marketed to people as a stress reliever during a time when global stress was at an all-time high, it's no wonder more humans turned to holistic products such as CBD in an attempt to make it through the day.
And once they'd tried it on themselves, why not their pets, as well?
According to Brightfield Group's Q1 2021 Pet CBD Consumer Survey, 28% of CBD consumers who have pets reported administering CBD to their pets, as well. But overall, what does the pet CBD consumer look like in 2021? According to Brightfield survey data:
73% of pet CBD consumers typically use CBD themselves (up from 58% in 2020).
Millennials are the over-whelming majority age demographic purchasing CBD for their pets, with 53% of the market share (see Figure 1).
55% of purchasers are female.
46% of purchasers live in the city; 30% live in the suburbs.
Further, both dogs and cats represent opportunities for pet companies looking to get into CBD products; while dogs represent the majority of pet CBD users, cat growth was significant from 2020 to 2021 (see Figure 2).
So, what do pet owners really want when it comes to CBD products for their pets? They want safety and reliability, something that may become increasingly complex as more independent studies come out testing the claims of CBD amounts on product labels. For example, Leafreport , a "comprehensive online resource dedicated to CBD" with a mission dedicated to bringing "transparency to the CBD industry," released a " CBD Pet Products Market Report " in May 2021 that tested 55 different pet products for their cannabinoid content. According to the results, which came from independent Las Vegas, Nevada-based laboratory Canalysis Laboratories, 24 of the 55 products tested contained the advertised amount of CBD. The rest were off by anywhere from 10.2% to 98.5% from the label, according to the results.
Pet owners also want to know who they're buying from, which is getting easier as more recognizable names enter the field. Treatibles and Pet Releaf are already known brands continuing to expand their lines; Martha Stewart has released a CBD Wellness line of soft baked chews.
Overall, pet owners want acceptability, which is happening whether the FDA and other regulating agencies want it to or not. Veterinarians may not be able to mention CBD products first, but pet owners still want to discuss them. And in 2020, Product of the Year , America's largest consumer-voted award for product innovation (organized by global consumer research leader Kantar), introduced a CBD category which includes a CBD pet option, showing that consumers are considering this segment of consumer goods as one they want in their carts.
Source: LINDSAY BEATON Petfood Industry