On 28th July the Novotel, Darling Harbour was host to the old guard of the Pet Industry.
Organiser of the event was Ed Kreamer late of Kramar Pet Products and invitations went out to those that were in the Pet Industry from the 70's, 80's and 90's. Many of these are no longer in the industry so it was a real challenge to make contact. However, persistence paid off and over 70 were able to attend.
Some of those that attended and are no longer in the industry are:
Ed and Frances Kreamer               Kramar
Roy Evans                                          Royjen
Cam McTavish                                  Aristopet
Karl Schnell                                       TFH
Rick Datodi                                       Aquarium Industries
Peter Nobbs                                     PIJAC (PIAA)
Henk & Vanessa Van Der Helm   Rudducks
Alan Whelpton                                 Pets International (Masterpet)
Brent and Wayne Whelpton         Masterpet
Steve Yeo                                          PIJAC (PIAA)
Some of those that are still in the industry and attended:
Tom Celluci                                       Pets International (now at Kong's)
Sue D'Elton                                       Beaupets
Davy Kong                                         Kong's
Frank Williams                                 Pet Pacific
Sue Carson                                        Aquasonic
David Crawford                               Dalbarb (now with Casco)
David Garrett                                   Brooklands (NZ)
Mike Gervai                                      Petware (NZ)
Geoff Hemmings
Plus many more including the partners of some of those that attended.
The group were pleased to donate some excess funds to Assistance Dogs and this was presented by Ed Kreamer.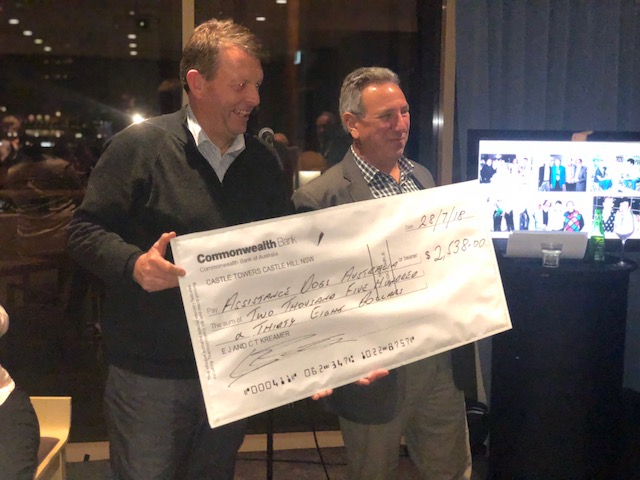 A montage of photos from that period was displayed on a television during the evening. This is now available for viewing at  https://petnews.com.au/view-magazine/?id=4750
So, what are they doing now? The following was supplied by some of the attendees.
ALAN WHELPTON
In 2001 at the age of 65 I sold Pets International Pty Ltd to good friends and business partners Brent & Wayne Wootton, a business I was involved with for almost 40 years.
At the same time I announced my retirement from Surf Life Saving Australia as President after holding the position for 26 years.
I continued on as President of The International Life Saving Federation for a further 8 years and retired as President in 2008.
Since 2001 I have had the opportunity to spend a term on the Board of The Sydney Olympic Park Authority (SOPA)
and today
Chairman Western Sydney Academy of Sport (since 2001)
Chairman NSW Hall of Champions Selection Committee (since 1992)
Selector of Sport Australia Hall of Fame in Melbourne (since 1998)
Chairman Coronation Club Ltd Burwood (since 2006)
Life Governor Surf Life Saving Australia (appointed 2001)
Life Governor International Life Saving Federation (appointed 2008)
and playing golf 3 days a week at Concord Golf Club.
ED KREAMER
Since stepping down from the Board of KraMar after the sale of the business to Nestle Purina in 2010, Ed Kreamer has continued to be involved in the business world as a non-executive Chairman of a footwear business (Homyped), Chairman of peer development group of 18, CEO's and Business Owners for Leadership ThinkTank, and head of a private investment syndicate.
Ed still lives in West Pennant Hills in Sydney's north west. He travel's regularly with his wife Carmel, is still an active waterskier, and a regular competitor in motorsport events around Australia including Targa Tasmania and the Bathurst 6 hour.
He has two boys the eldest Steven a professional musician and Matthew completing his last year of University.
JOHN COUNIHAM
Still very active within the industry and tenaciously independent. 2 years ago we sold our Burnside retail store after 25 years to concentrate on our Mt Barker store in the lovely Adelaide hills. we are a shareholding member of indepet and are very active within the group. Currently don't have an active roll with PIAA however with my close association over nearly 30 years still get called upon to represent wherever i can.
BOB DIXON
I retired in 2014 since then my wife Jan and I have been traveling to different parts of Australia and overseas playing plenty of golf with three of my mates swimming once a week to keep fit and stay in good health still keep in touch with some of my costumers and have dinner with them we plan to travel to Europe later next year
EVIO CONTENATI
Evio Contenati of Pet City in Brisbane still owns the 61 year old family business but has withdrawn from the everyday running of the store and now consults weekly with his Store Manager.
He is now more or less a self-funded Retiree and is fortunate to have his two daughters as his neighbours and now indulges in his love of family, reading and classical music.
KIM PERIES (CONTENATI)
After more than 35 years with her Dad at Pet City Brisbane took the opportunity at the urging of her Dad to leave the daily running of the store.
Kim now promotes Pet City at external venues as vice president of the Sthside Chamber of Commerce and is a leading light in charitable works in local primary schools with the chaplaincy programme providing food for needy children,
DAVY KONG
I am still actively involved in developing the Kong's business internationally which I started in 1991. I spend part of my time here in Australia and part of the time overseas overseeing the business operations. And I have some time in between to enjoy life and family.
I am enjoying the journey and what I do, have developed business and personal acquaintances with many great people and Industry leaders globally and this has provided me a most gratifying working experience.
TOM CELLUCCI
As for me, well, I am still at it and working with Davy Kong at Kong's (Aust) Pty. Ltd and have been since 2003. This is my 32nd year of working in the Industry, having started in 1986 with Alan Whelpton at Pets International Pty. Ltd.
I have enjoyed my time in the Pet Industry, met some fantastic people both locally and abroad and am privileged to have worked with two of the nicest people I have ever met in ALAN WHELPTON
and DAVY KONG.  They have provided me with some everlasting, memorable times.
Fay & David Garrett – Brooklands Pet Products
Would like to say it was a well run evening that was put on & was very pleasing to see a lot of the people that we use to deal with.     With most of them having sold their business's in Australia keeping in touch with them isn't an option anymore as we are all doing different things in our lives.
We are both still in the business & enjoying watching our children make a good job of running it now.
Warren our Son –  Control's the buying overseas/ Contact to Chain stores / importing Tropical & Marine Fish etc etc/ plus many other duties
Lauresa our Daughter – Control's office  accounts / wages etc / breeding of tropical fish / goldfish & plants.
Jason our Son in law – Set up & looks after the Web/does some buying overseas/ is a rep / visits Customers with reps in their area's etc/ he also set up the plant department/ handy man.
Warren & Jason do the main shows also.
I am in the office, keeping eye on customer accounts, ordering NZ stock, plus other jobs were needed.
David is still in his office doing overseas freight, overseas payments , money buying etc with a lot of other duties.
We enjoy our work as it is a business we started from scratch.
It does not tie us down that we cannot go away.  We travel a lot plus we also do a couple of Pet Shows a year.
We do not work a 40hr week & can leave anytime we want to.
We have built a new home 2-3years ago with quite a lot of gardens & lawn as we have always had big gardens. (That's vegetable & flowers)
Our home is just 5min down the road from work in a car & David walks to work everyday.
Cameron McTavish
Happily retired (should have done it earlier) living on rainforest acreage on the Gold Coast. Traveling a lot and still can't pass a pet shop anywhere in the world without checking it out. Probably would travel more but gets separation anxiety from faithful hound Buster.