PetWell has secured ranging of its new treat range at Habitat Pet Supplies, with Ayda Hornak, Co-Founder of PetWell, making the first deliveries last week.
Hornak explained that Habitat have always been a great supporter of PetWell.
"To have our treats ranged by Habitat is awesome because we know their commitment to quality products and pet wellbeing. To be part of their vision moving forward is a huge complement to the PetWell brand."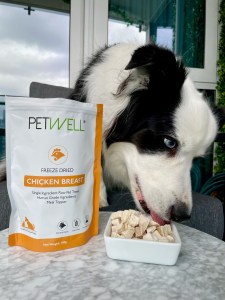 PetWell has a scalable supply chain that will accommodate the growth of its products, with a goal of establishing the PetWell brand in pet speciality stores across Australia, enabling the brand to fulfil its mission of educating pet owners about pet wellness.
"At PetWell, our primary objective was to establish a brand dedicated to offering optimum, all-natural, human grade supplements and treats for all pets. Drawing from personal experience with significant health challenges, we recognise the vital role nutrition plays in our well-being, which extends to our fur family.
"In addition to our commitment to delivering superior quality supplements and treats, we host the annual 'Walk for PetWellness' event. This initiative aims to raise awareness around the importance of pet health and raise funds in support charities like Second Chance Animal Rescue, enabling us to help pets in need," said Hornak.
To stay up to date on the latest industry headlines, sign up to the Pet Industry News e-newsletter.