In an Australian first, and as part of the ADVANCE™ Breed Groups range extension, you can now nourish puppy Oodles with their own unique formulation. ADVANCE™ Puppy Oodles dry food launches late August 2022.
There's no denying the meteoric rise in the popularity of Oodle dogs.
Australia loves Oodles, with Poodle crosses now making up 18% of dog ownership in Australia.1 It's no wonder, as both small and large Oodles are attentive, highly intelligent, and willing to please. They make great companion and family dogs. However, like all breeds they need the right nutritional support to ensure they grow into healthy adult dogs.
ADVANCE™ Puppy Oodles is a unique offering that builds on the success of the ADVANCE™ dry diets for adult Oodles. ADVANCE™ Puppy Oodles food is scientifically formulated to suit both small and large puppies with Poodle in their breed mix, for their breed needs and healthy development. Plus, it's a product that's sure to help you deliver category growth.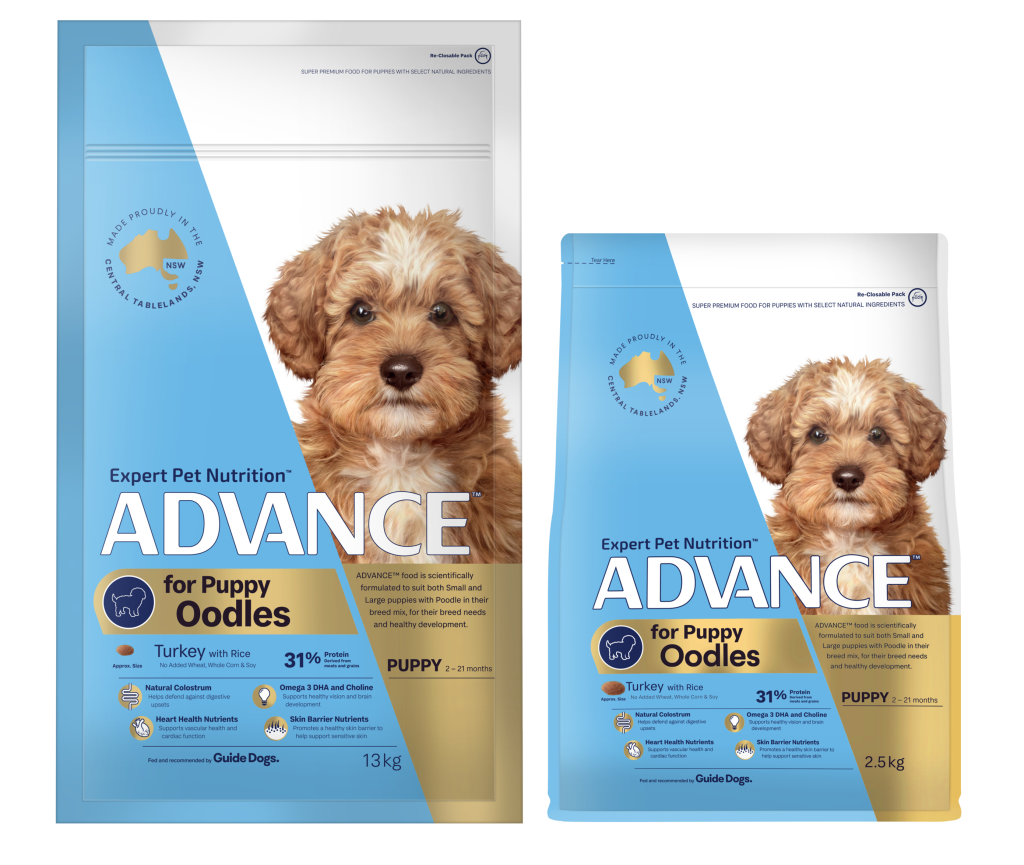 There's a swag of reasons to recommend ADVANCE™ Puppy Oodles to your customers. The product is formulated with turkey and rice to be easy to digest, which supports sensitive stomachs. ADVANCE™ Puppy Oodles also contains Natural Colostrum to help defend against digestive upsets and Omega 3 DHA and Choline to support healthy vision and brain development. Skin Barrier Nutrients also promote a healthy skin barrier to support sensitive skin. In addition, Heart Health Nutrients including Taurine, Arginine and Vitamin E support vascular health and cardiac function.
The product has a great taste that will help tempt fussy eaters and carries a 100% money back guarantee for peace of mind. ADVANCE™ Puppy Oodles is made locally in the Central Tablelands of NSW and is available in 2.5 kg and 13 kg bags.
Learn more at www.advancepet.com.au
For further information, please contact Mars Petcare on 1800 640 111.
1Mars Petcare Australia Pet Ownership Study, 2020.