An unwavering passion for quality products, inspired by the best nature has to offer. At Ivory Coat, we take great pride in our high quality, Australian-made products, which are now showcased all over the world.
OUR BRAND STORY
Ivory Coat was started in 2013 by Steven Devereaux-Stanford through a natural shampoo range to address his own dogs skin allergies and irritation. It was later expanded into a grain free range of food to provide a foundation for dogs with grain sensitivities and digestion issues to help provide good health from the inside out.
Ivory Coat's Brand Mission is to be the most Trusted natural pet brand by creating natural pet food, made in Australia with Australian meat and quality natural ingredients that provide real benefits for all types of dogs and cats.

Ivory Coat strives to be the leading brand to provide straightforward Australian Natural Health so you can make the right choice. Every product is built on a natural formula developed by nutritionists with great taste and nutrition at the heart.
We are passionate about being Australian Made and giving back to Australian farmers and communities and is core to our brand philosophy.
BEHIND IVORY COAT
Our dry, wet and chilled products are like nothing else you'll find on your pet store shelves – with quality 100% Australian meat as the #1 ingredient, added vitamins and minerals, and specially selected natural ingredients, and available in grain-free options and a wide range of delicious flavours that dogs and cats love, we have an option for every dog or cat. All of our pet food offers complete and balanced nutrition, which means that it's all your pet needs, other than water, for a healthy diet.

We also offer different products based on your pet's age, size and breed – with no added artificial preservatives, colours or flavours.
INGREDENT PURPOSE AND INGREDIENT INTEGRITY ARE PARTS OF OUR IVORY COAT PHILOSOPHY: Grain Free vs Holistic Nutrition:
Just like us, some dogs may be more sensitive than others when it comes to certain ingredients – even natural grains. That why Ivory Coat's range includes Grain Free and Holistic Nutrition options.

Examples of grains include gluten-free varieties such as corn, oats and rice, as well as grains with gluten, such as barley, rye, spelt and wheat. It's why, at Ivory Coat, we provide you with options. As well as our wholegrain dog food varieties, we also offer a range of dog food that contains absolutely no grains – not even wholegrains.
Every pet is different, and grain-free pet food can be of benefit for dogs who may not feel their best when eating foods containing grain. If you're concerned that your dog is intolerant to grains for any reason, it's important to talk with your vet first, and potentially, choose grain free pet food options.

Ivory Coat's grain free range includes absolutely no added grains. Instead, all of our recipes use a combination of meat and vegetables, with added vitamins, minerals and other trace nutrients for complete and balanced daily nutrition. Our grain free products are higher in protein compared with our wholegrain products and are formulated to provide your dog with all the sustenance and nutrition it needs every day.
Un-refined wholegrains come with every part of the grain – the bran, endosperm and germ, each of which contributes important nutrition. The endosperm is the food supply for a grain's germ, and so has a high level of starchy carbohydrates and protein, and the germ is the embryo of the grain and contains essential fatty acids, vitamin E, B vitamins and minerals. The bran, or the grain's hard protective outer shell, is high in fibre, vitamins and minerals. For this reason, wholegrains like brown rice are more nutritious than refined grains, like white rice, which have the bran and the germ removed.

You'll only find nutritious wholegrains in Ivory Coat's Holistic Nutrition pet food – like brown rice and oats. Their fibre, vitamins, minerals, essential fatty acids and protein ensures that every option within the Ivory Coat wholegrain range provides a complete and balanced meal option for your dog.
PET NUTRITION EXPERTISE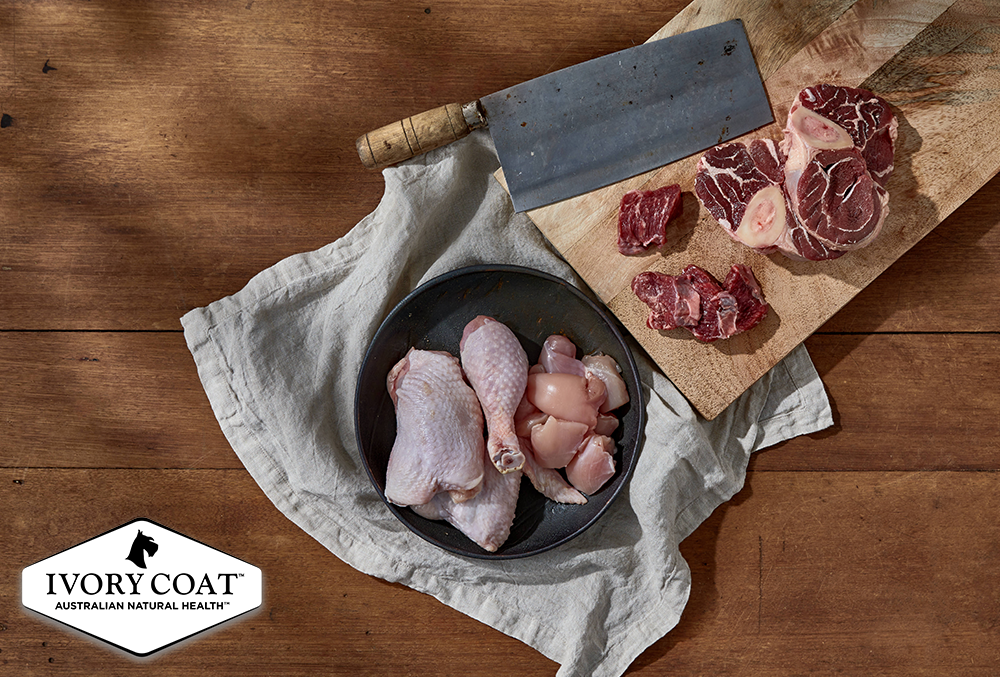 Like you, we care about what goes into your pet's food – we feed our pets Ivory Coat too!

Our talented team of pet food scientists and animal nutritionists lead the development and research of all our Ivory Coat foods. We take pride in providing the most advanced, safe & natural products in the industry. Pet nutrition and health is a complex and serious industry. That's why we employ and work with pet food experts to deliver proven and trusted pet food formulas.

Together we make sure your pet gets the best Australian Natural Health(TM) nutrition they deserve, using the best selected natural ingredients for Pets as Healthy as You.