Eighty-five per cent of small business owners are currently seeking cost-cutting measures amidst difficult economic conditions.
Findings from the first Zeller Small Business Resilience Report revealed that 42 per cent of small business owners cite their biggest concern as the increasing cost of supplies and materials, whilst 32 per cent reported reduced consumer spending as their biggest concern.
Eighty per cent of small business owners estimated an increase in supply costs of more than 10 per cent in the past year, while one in five reported increases of between 20 and 50 per cent.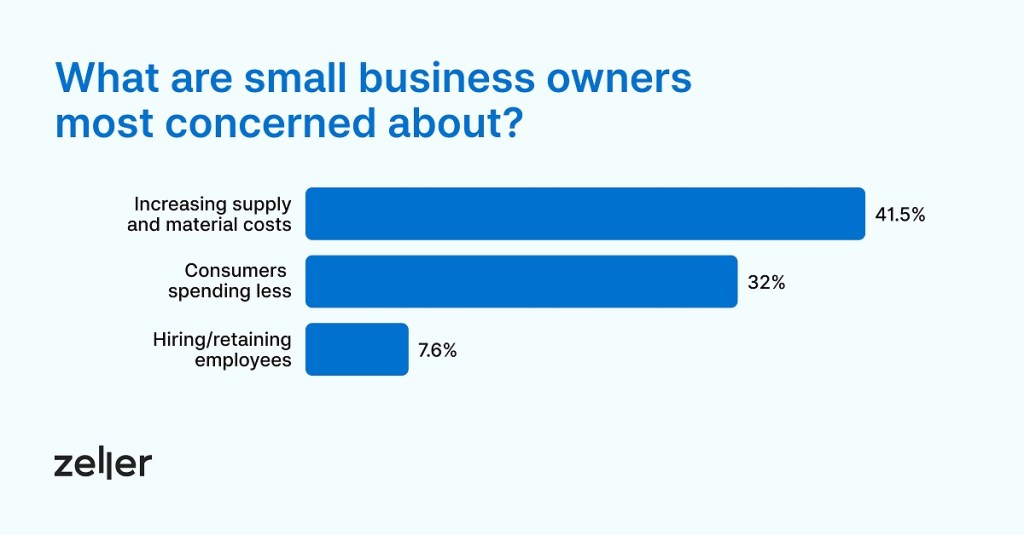 Joshua McNicol, Director of Growth at Zeller, said the report reveals the impact a challenging economic environment is having on small business owners, but they're encouraged to see adversity breeding opportunity.
"Australian small business owners demonstrate a rare breed of determination in adapting and identifying solutions to sustain their businesses through tough times."
One of the tactics that business owners are opting for is to renegotiate supplier contracts or surcharging EFTPOS fees. Over fifty per cent of transactions processed with Zeller EFTPOS Terminal in May 2023 included a surcharge, up 104 per cent compared to the same month last year.
Zeller, an Australian fintech, provides business owners access to smarter financial tools and technology to help business owners understand their cash flow and financial position.
Malcolm McCullough, Owner of Bill's Farm in Queen Victoria Market, Melbourne, said they look at their Zeller Dashboard frequently to gain a real-time snapshot o all the funds coming into the business from EFTPOS and going out through expenses and spending.
"We use this information to forecast and measure our success according to our budget – having this information in one place means we can always keep track of business performance and react to changes."
To stay up to date on the latest industry headlines, sign up to the Pet Industry News e-newsletter.