World Veterinary Day, which took place on 30 April, is a day about celebrating the crucial work veterinarians do in supporting animal health, animal welfare, people, and the environment.
The theme for World Veterinary Day this year was 'Strengthening Veterinary Resilience' – a timely reminder of the unprecedented strain the veterinary industry has felt over the past two years, and the extraordinary role the sector played in the pandemic response.
According to research conducted by Animal Medicines Australia, the pandemic saw pet ownership numbers increase by nearly 20 per cent. The veterinary profession also had to quickly pivot to provide contactless consultations and telehealth services. On top of the many challenges associated with the pandemic, the profession also faced bushfires and floods.
Further to this, research into veterinary mental health showed that 66.6 per cent of respondents said they either have experienced or currently are experiencing a mental health condition, five per cent higher than the national average.
Throughout all this, veterinarians have continued to keep the animals of this country safe.
Pet Industry News wants to hero the visibility and inspiration of World Veterinary Day, so we're launching a series of profiles on vets from around the country, in the hope that we can raise awareness for the challenges they face and pass on advice to the next generation of veterinarians.
This week we speak to Dr Teagan Lever, Head Vet at Pet Circle.
Pet: What kind of places has your career taken you and what kinds of roles have led you to where you are now?
Dr Lever: Before joining Pet Circle I worked in a variety of clinical settings including mixed animal practice (including dogs, cats, horses, cattle and even camels), as well as primarily small animal (cat and dog) practices in South East Queensland and Canberra.
In 2016, I was lucky enough to get a job at Pet Circle as their in house veterinarian. I had been looking for something a bit different and was drawn to the role as it gave me an opportunity to use my skills and experience in a different way. In 2019, I became Pet Circle's Head Vet, which involves leading our Vet Squad of 30 registered Australian vets and working with teams across Pet Circle to manage our product range and offering.
Pet: Have there been any highlights or really defining moments of your career so far?
Dr Lever: An early career highlight was performing my first ever dog caesarean on a litter of Great Dane puppies on Christmas morning!
More recently, a big career highlight has been leading the expansion of the Pet Circle Vet Squad during the pandemic. Lots of our customers were looking for pet advice online as they couldn't get to their vets or in-store and we wanted to help. So we launched online vet video telehealth sessions in April 2020, vet live chat in June 2020, and in January 2022, at the height of the Delta strain, we expanded our live chat service to be available 24 hours a day, 7 days a week.
It has been really exciting to grow our Vet Squad offering and increase our team from 8 to over 30 registered Australian vets over the past couple of years. As the only free vet service of its kind in Australia, our squad has helped tens of thousands of Aussie pet parents during the pandemic and I am really proud of this.
Pet: What do you love about what you do?
Dr Lever: I love connecting with pet parents and talking to them about their pets. Being able to provide empathy and education to help them achieve the best outcome for their pets is what gets me up each morning.
I also love that my role allows me to help vets find balance in their working life by providing them an alternative to full time clinical practice.
Pet: What's next for you – any goals or plans that you hope to achieve over the next 12 months?
Dr Lever: I'd like to continue to expand our veterinary team at Pet Circle to be able to help more pet parents, including doubling the amount of customers we speak to each month.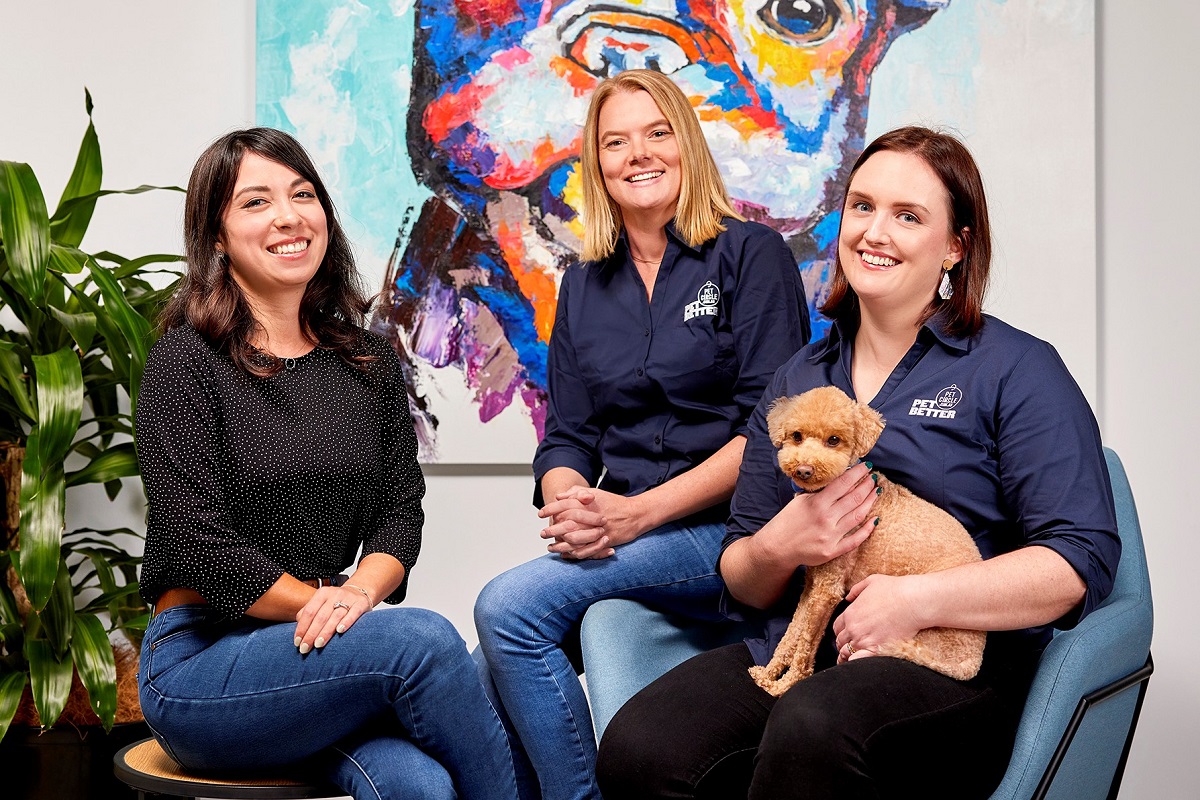 Pet: What are some of the biggest challenges facing the pet industry? How can the industry work to overcome those?
Dr Lever: A lack of regulation for pet food, treats, supplements and toys means that pet products sometimes put animals at risk. I think making companies adhere to compulsory standards for these would greatly improve the industry and the lives of pets in Australia.
Pet parents are also often given misleading or incorrect advice from sources such as social media. I believe Australian pet owners need more education from reputable sources and that's where Pet Circle and the industry can provide more value.
Pet: Do you have any thoughts on how we can work to overcome the national vet shortage in Australia?
Dr Lever: I believe the key to overcoming the vet shortage is to address the reasons that veterinarians leave practice in Australia, namely stress and burnout, poor work life balance, and low remuneration. We need to find ways to offer Australian vets flexible working arrangements and pay that is commensurate with their experience and knowledge.
Pet: What advice would you offer to an aspiring veterinarian?
Dr Lever: Follow your passion but make sure you have a life outside of work too! Be prepared to negotiate working arrangements that suit you and find a mentor or someone with experience to debrief with after hard days. Don't accept that just because your boss worked 60-hour weeks as a new grad that you have to do that as well.
Pet: How did you celebrate National Vet Day?
Dr Lever: This year National Vet Day fell on a Saturday so I spent it with my family – something I may not have been able to do in clinical practice. We also celebrated our Pet Circle Vet Squad and the amazing work they do by sending out an email to our customer base to thank our vets and encourage our customers to also thank theirs.
To stay up-to-date on the latest industry headlines, sign up to the Pet Industry News e-newsletter.